In MP3 format (download):
(click link with right mouse button and choose
"Save As" from the menu)

From the album
Wait with Me: Advent of the Promised Son

Baby Jesus (3.3 MB)

A Shoot from Jesse (2.8 MB)

Lo How a Rose (2.9 MB)

O Holy Night (3.7 MB)

Promised Son (3.6 MB)

Room in Our Hearts (4.2 MB)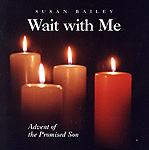 These songs and 7 others are featured on Susan's brand new CD, Wait with Me: Advent of the Promised Son,
which is available for sale at Amazon.com,
www.CatholicMusicNetwork.com,
or through her website using Paypal.





Susan Bailey's previous album, Teach Me To Love, is also available at Amazon.com.

Contact Susan at milonoah@aol.com and visit her website at www.susanbailey.net for more information on her music ministry
The Music of Susan Bailey
"The songs I write are oftentimes prayers set to music or personal testimony, taken from scripture, spiritual writings, traditional prayers, and everyday living."

Wait with Me: Advent of the Promised Son is Susan Bailey's second album and contains a pleasing collection of soothing and simply arranged songs. Beautiful acoustic guitars, simple, earthy percussion, poetic lyrics based on scripture, and quiet yet passionate singing focus the listener on the true meaning of the Advent and Christmas season.

Dave Wang from the National Catholic Register in Toronto, Ontario, writes: "Some people's voices just evoke a holiday feel. Susan has such a voice. This album of originals, a few well-known carols and a couple of covers is Susan's best effort to date. Focusing on advent also gives this album a different feel than most, particularly with a focus on Mary's role. Very nicely done. "

Nancy Krebs, a fellow Catholic artist comments that Wait with Me is "yet another gift--this one a journey through the Advent Season. Her songs are prayerful, hopeful and offer us an opportunity to turn inward and meditate. In these frenetic times, filled with too many obligations and commitments, this album should be in every car, and in every home...simply put it on and allow the melodies, rhythms and messages pervade us and persuade us to focus upon the true meaning of this season--this season of hope--this season of the coming Savior!"

Wait with Me features prophecy from Isaiah ("A Shoot from Jesse", "The Lord Has Come to Save You"), a new version of the Magnificat ("He Looked at Me") original songs focusing on Mary's role ("Wait with Me", "Room in Our Hearts") plus covers of "O Holy Night", "Lo, How a Rose" and Michael Card's "The Final Word". A duet with Susan's daughter Meredith is featured on "Baby Jesus".