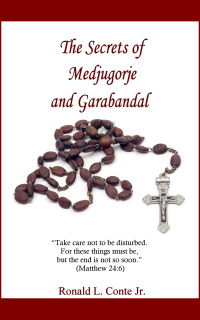 Quote from the cover:
"Take care not to be disturbed.
For these things must be,
but the end is not so soon."
(Mt. 24:6).

At Garabandal, and again at Medjugorje, the Virgin Mary appeared to a group of children and gave them secrets about the near future. At Garabandal, these are called the Warning, the Miracle, and the Chastisement. At Medjugorje, they are called the ten secrets. This book proposes that the dates and events of these 13 secrets can be known from a study of the Bible, of Catholic eschatology, and of the words of the Virgin Mary in various apparitions.

Please understand that my writings about the future are speculative eschatology, based on study and interpretation, not based on knowledge that is absolute or certain.

Important Information: This fifth edition was published in February of 2015. The book is available in Kindle format, and in print format from CreateSpace.com and Amazon.com .